Welcome to CutResist online ...
For over 35 years, J & K Ross has been at the forefront of providing personal protective clothing, and safety equipment for businesses across the globe. The UK-based company continually strives to supply its extensive client base with the latest technology and safety standards to ensure the highest level of protection. Our specially engineered CHIEFTAN® COMFORT garments provide EN388 blade cut level 5 and puncture resistance level 2. For industrial workers, who must lift, handle or who are at risk of coming into contact with sharp-edged objects, particularly glass...comes an exceptional range of safety clothing. The glass and glazing industries have
given instant approval to the safety garments which are both practical to wear and meet all legislative requirements. All the items of clothing you'll see on our website are available from stock and are ready for immediate dispatch.
Please call 01925 645645 and our highly-trained staff will be happy to be of assistance.

map and directions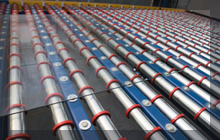 Glass Industry Products
After many years of interaction with the Glass Industry through the supply of innovative product, J & K Ross Ltd have compiled a range of clothing and gloves which can be used to assist their clients in meeting their duty of care to their workforce – please remember at all times that PPE is the last line of defence
Only approved suppliers who have supply chains with rigorous  documented  Quality Control are used as sources for the products on this site